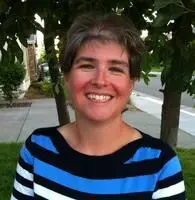 I have been working in the counseling field since 1996, and have been licensed as a Marriage and Family Therapist since 2001. During that time, I have had the opportunity to work in many different settings--from working with homeless teens to foster youth to victims of trauma (including domestic violence, rape, molest, attempted murder) to working/supervising in a large counseling center with families and individuals to being the program manger/clinical director of a domestic violence/sexual assault treatment center. I have also worked in private practice since November of 2001.

Education and Ongoing Training
I graduated Summa Cum Laude with a B.A. in Psychology from the University of California, Davis, and completed my M.A. degree with a dual specialization in Child and Adolescent Treatment and Expressive Arts Therapy at John F. Kennedy University's School of Professional Psychology. I graduated from the PsyD program at the Institute for Contemporary Psychoanalysis in Los Angeles, CA in 2021. Currently, I am in a one year program at the Manhattan Institute of Psychoanalysis exploring the role of the sociocultural and sociopolitical (issues of race, class, gender, sexual orientation, dis/ability status) in defining who we are and who we are allowed to be.

I continue to take classes and participate in training groups in order to keep my knowledge about effective practice in psychotherapy on the growing edge. In the recent past I have completed additional training in:
Working with complex PTSD and acute PTSD
Dissociative Identity Disorder
Bipolar and Depressive Disorders
Acceptance and Commitment Therapy, especially in regards to generalized anxiety, phobias, and OCD
Mindfulness Based Stress Reduction
Attachment based psychotherapy
In addition to my private practice, I have worked as adjunct faculty teaching core graduate courses in Marriage and Family Therapy for several universities. I have taught courses or led trainings in: Couple and Family Therapy, Assessment and Treatment of Trauma, Psychopathology, Human Sexuality, Counseling skills, and Counseling and Therapy Theories, and Attachment Theory and its Implications for Psychotherapy. I currently co-teach a seminar in Diversity, Power and Privilege at the Institute for Contemporary Psychoanalysis in Los Angeles, Ca.
Professional Activities and Memberships
Lifetime Clinical Member of California Association of Marriage and Family Therapists (CaMFT)
CaMFT Certified Supervisor since 2007
Member at the Institute of Contemporary Psychoanalysis in Los Angeles, CA, and candidate at the Manhattan Institute of Psychoanalysis
Member of International Association for Relational Psychoanalysis and Psychotherapy (IARPP), Member of International Association for Psychoanalytic Self Psychology (IAPSP), and International Society for the Study of Trauma and Dissociation (ISSTD).